Most children's rackets sold will display a recommended age. For example, many manufacturers will recommend 25-inch rackets for 9-10-year-olds.
You may have seen some 21-inch rackets marketed as suitable for 4-5-year-olds.
While the guidance for children under 13 is pretty clear, it is not as apparent for teenagers.
What size racket is suitable for a typical 14-year-old?
Most 14-year-olds will be big enough to handle a 27-inch adult racket. Having adapted equipment is to allow children to train with something suitable for their size.
A 14-year-old, in terms of height and strength, is usually pretty similar to an adult.
In this article I will be discussing:
The suitable racket size for a 14-year-old
What to consider when choosing a junior racket
If a 14-year-old can actually play with an adult racket
The best rackets for 14-year-olds
Most 14-year-olds will do just fine with an adult racket.
There may, however, be some cases in which a 14-year-old will benefit from a junior racket.
I'll be sharing some reason further down so read on!
Appropriate Racket Size For 14 Year Old
When it comes to selecting the correct size tennis racket, gender plays no role.
Racket size should be determined first by the player's height and the size of their hand.
The primary reason that children use adapted tennis rackets is to make the equipment relative to their height.
If they play with equipment suitable to their size and strength, it will make their training more relevant. It will also be more enjoyable.
Children with a shorter tennis racket playing on a reduced court will be trained to play tennis like adults.
The only difference is that they will be playing with more suitable equipment for them.
Imagine how it would look getting a small 5-year-old to play with an adult racket, with yellow balls, on a full-sized tennis court. They would be training in an unrealistic environment.
If you give a child a racket that is too big for them, they will use a lot of energy trying to cope with holding and controlling it.
If they have a smaller racket suitable to their height, their focus is on improving technique and tactic.
As they grow up, they will develop into more complete tennis players.
The average height of a 14-year-old (in 2018) in the United States was 64.6 inches.
For teenagers of this height, I will usually recommend trying a 27-inch adult racket first.
Most players will be fine with this, but there are a few reasons I might suggest they use a 26-inch instead.
One reason is if the player is short for their age. While it is only 1-inch, the little bit of a reduction can make the racket much easier to control.
If I see the player is struggling with a full-size racket, I will give them a 26 inch to try.
The other reason is strength. For example, if a player is tall but struggling to maneuver the racket, I usually get them to try a 26-inch.
This is not a long-term solution but a form of progression. As they get comfortable swinging the 26-inch, I will switch back to the 27-inch.
When it comes to measuring suitable grip size it is much clearer. Adult rackets come in 5 different sizes. They are measured as follows.
| Grip Size (European) | Grip Size (US) |
| --- | --- |
| 1 | 4 ⅛ inches |
| 2 | 4 ¼ inches |
| 3 | 4 ⅜ inches |
| 4 | 4 ½ inches |
| 5 | 4 ⅝ inches |
While the European grip sizes may seem more readable, the US sizes make more sense.
To find the correct grip size take a ruler. Measure the distance between the top of your ring finger and the lowest horizontal crease in your hand.
The distance between the two is the grip size. For example, if it is 4 ¼ inches, you are a grip size 2.
The other way to measure grip size is even simpler, but you will need a racket to hand. Hold the racket using your standard forehand grip.
Next, place your index finger in the gap between your palm and the longest finger.
The gap between the palm and longest finger should be roughly the size of your index finger on the non-dominant hand.
If it is too small, you should try a larger size. If the gap is too large, try a size down.
In my experience, most 14-year-olds will be a grip size 1 or 2.
Main Considerations When Selecting A Junior Racket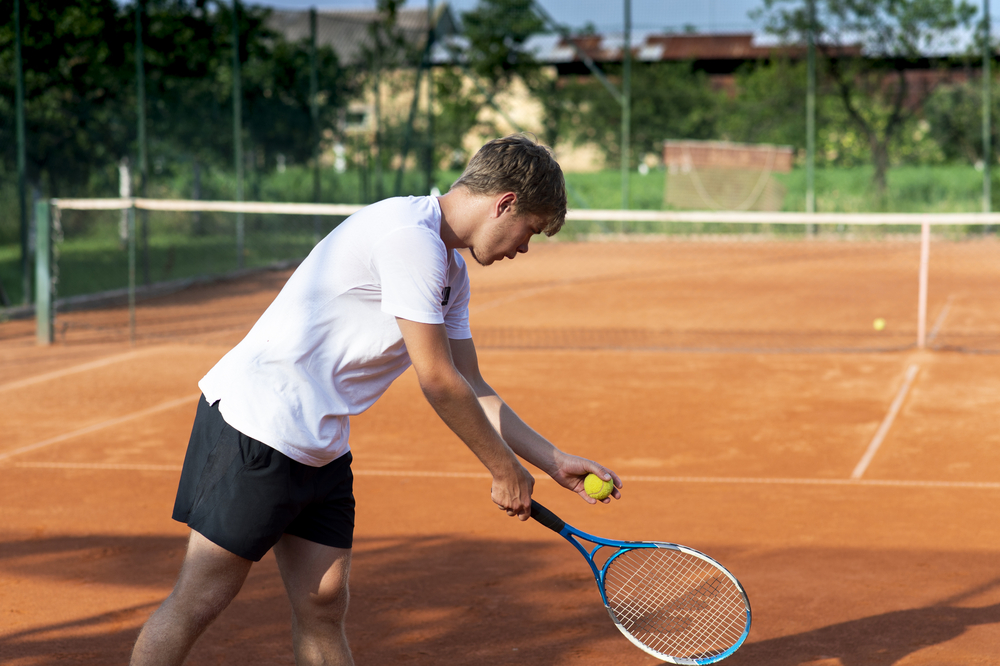 The biggest consideration is height and palm-size, but are there other things to consider when choosing a junior racket?
Play level is an important factor.
Beginners should look for rackets that weigh less and have a larger head size.
Playing with a lighter-weight racket will be easier for them to swing. However, beginners have not developed the technique to control a heavier racket properly.
Using a lightweight racket will make it easier to get power through easy maneuverability.
Having a large head size will also increase the chance of hitting the ball on the sweet spot. The sweet spot in the innermost section of the racket.
Hitting the ball on the sweet spot will increase the precision of the shot.
Intermediate-level players will look for rackets that generate extra power without giving up control.
These rackets will weigh more and have smaller head sizes than rackets aimed at beginners.
Advanced players can consistently hit the ball with speed and place it where they intend to.
At this stage players will look for rackets that can build upon their specific strengths.
Related: What Tennis Racket Size For 10-Year Old?
Can A 14 Year Old Play With Adult Racket?
Not only can 14-year-olds play with adult rackets, but for most of them, it will be a better choice than a junior one.
Players should choose rackets based on their physical characteristics.
Even if a player can use an adult racket, it might not necessarily be the best choice.
If they are of a good height but struggle to maneuver the racket, it won't do any harm for them to switch to a 26-inch short term.
Also read: How To Chose Racket For 8-Year Old?
Best Rackets For 14 Year Olds
There are so many different rackets available for each ability, style, and preference.
It is impossible to highlight one as the best, but here are two rackets I often recommend.
The Wilson 108 V3.0 (Amazon) is a racket I often suggest for beginner teenagers. I like this as it has a huge 108 in² head size.
It makes it easy to consistently hit on the sweet spot with such a large head. At just 270g, it is also easy to maneuver.
For intermediate to advanced players I like the Babolat Pure Aero (Amazon).
I like this as it gives a good blend of power and control to players looking for a balance in their game.
Also read: How To Select A Racket Size For 12-Year Old?
Final Words
No 14-year-old is the same, and it is essential to get a racket that is not just specific to their height but ability and playstyle.
Even if you, as a new player, purchase a racket that is slightly too small or large, it is not the end of the world.
The difference is minimal, and it will still function perfectly fine.
Perhaps you have played tennis for a while. What size racket did you use when you were 14?
I started playing when I was 13 and have always used an adult racket.