When writing this article, the world number 1 Novak Djokovic is 6'2″. World number 2 Daniil Medvedev is 6″ 6′ and world number 3 Stefanos Tsitsipas is 6″ 4′.
Surely if the top three male players are over 6 feet, this means that you need to be tall to be a tennis player?
Tennis players can be short; however, there are advantages to being tall. Taller players will contact the ball from a higher angle when serving. Being able to contact the ball from a higher angle allows them to serve more aggressively.
While the top 3 male players today are over 6 feet, shorter players have reached the top of the game.
Spaniard David Ferrer has a career-high ranking of 3. However, he is only 5 feet and 9 inches tall.
In this article I will be discussing:
The advantages short players have
If you can become a professional and be short
The 5 shortest players in the ATP top 100
World number 1 on the women's side Ashleigh Barty is only 5 feet and 5 inches tall. If you can reach world number 1 in 2021 at that height, there is hope for short people everywhere.
Do Short Players Have Any Advantage?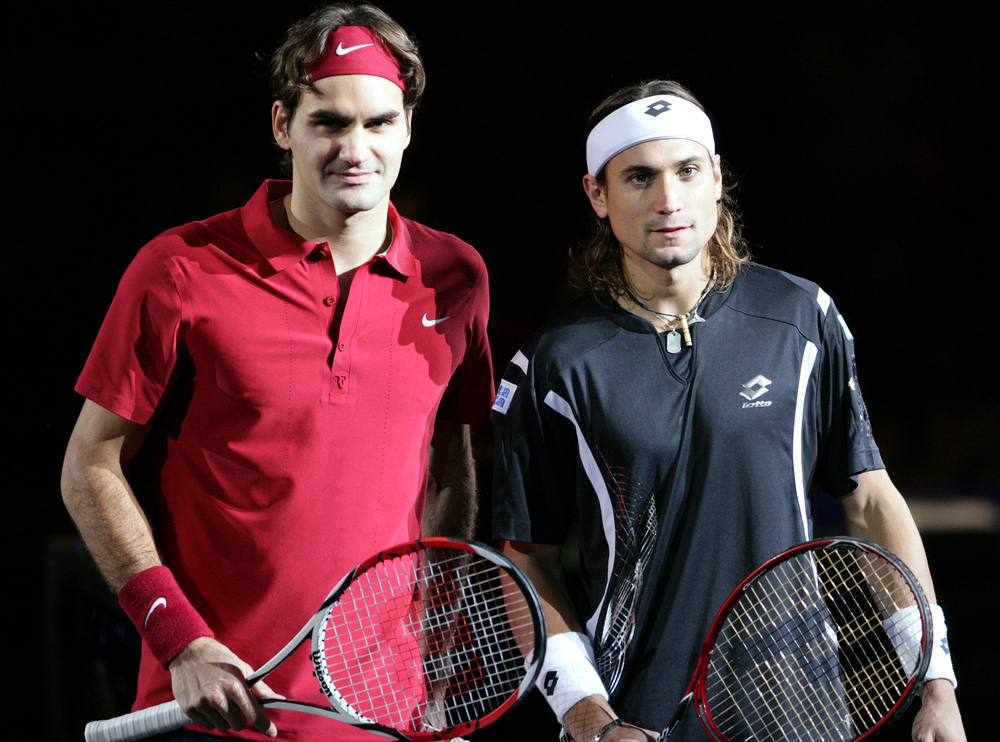 The clear advantage of being tall is that it is easier to serve with more power. What about if you're short?
Generally, short players will deal with low bouncing balls better than taller players. Take John Isner as an example.
Isner is a towering 6'10". He will find it much easier to serve from a high angle, but this won't be the case if the ball is bouncing low.
The taller a player is, the harder it will be for them to deal with low bouncing balls. This is because they need to go lower to the ground to take it, and as they are larger, they have further to go than shorter players.
Grass courts pose an interesting scenario for these tall players.
When serving, the ball will bounce faster because the grass is more slippery than other surfaces.
But if they fail to win the point off the serve, they will be faced with the challenge of dealing with low bouncing balls.
Of the three main surfaces, the ball bounces lowest on grass.
Some short players feel that they can take the ball earlier as well. By being lower to the ground, they're at a better angle to step forward and take the ball as it is rising up.
Taller players would again have to bend down to take the ball.
Agility is another area in which shorter players can benefit.
While short players will not have as large of a stride as taller athletes, they will usually quickly change direction.
Shorter people can rotate faster. This is because they have a lower center of gravity and will be more balanced.
The main reason gymnasts are short is because being short helps with rotational skills.
While it's unlikely you're going to be doing somersaults in tennis, there is a lot of rotation needed. This is the case both when you hit the ball and change direction.
Can You Become A Pro Tennis Player If You Are Short
There is no denying that the game on the men's side is dominated by players measuring at least 6 feet.
There are also a few giants like Isner, just shy of 7 feet. But many players counter the stereotype that you must be tall to play tennis.
Diego Schwartzman is one of them. Schwartzman measures just 5 feet and 7 inches in height.
That didn't stop him from reaching a career-high ranking of 8. At the time of writing, Schwartzman is 14 in the ATP rankings.
Schwartzman's height restricts him from playing a typical aggressive game. But he has found a way to deal with this.
Schwartzman is fast and has excellent coordination. This allows him to step in and take the ball early.
Timing is definitely Schwartzman's biggest asset. His timing allows him to use the opponent's power against them.
Schwartzman will take the ball early to redirect hard shots that the opponent has hit.
Schwartzman is just one of many players who prove that you can succeed at the highest levels of tennis while being short.
David Ferrer is another great example. At 5 feet 9 inches, he reached the 2013 French Open final.
He also got to 5 grand slam semi-finals and 11 grand slam quarter-finals throughout his career.
The strong points for Ferrer were his consistency, fitness, and court coverage. Despite being short, he was known to defend well across the entire court.
Many players felt when against Ferrer that the longer the rally went on, the higher the chance of winning it.
I've talked a lot about men who have proved that you can play tennis while being short. However, perhaps the greatest example is on the women's side of the game.
Ashleigh Barty is the shortest player in the top 30 at 5 feet 5 inches. In addition, she also happens to be world number 1.
On top of that, she has also won both Wimbledon and the French Open.
If you are short you may need to adapt your game, but there is nothing beyond that stopping you.
Top 5 Shortest Male Tennis Player In TOP 100
Of the top 100 players currently ranked inside the ATP top 100, only 12 measure less than 6 feet. Let's have a look at the 5 shortest players in the top 100.
| Player | Height | Rank (01.09.2021) |
| --- | --- | --- |
| Diego Schwartzman | 5 ft 7 in | 14 |
| Yoshihito Nishioka | 5 ft 7 in | 69 |
| Corentin Moutet | 5 ft 9 in | 88 |
| Fabio Fognini | 5 ft 10 in | 31 |
| Kei Nishikori | 5 ft 10 in | 56 |
These stats prove that whilst it is more challenging for shorter players, it certainly isn't impossible.
Kei Nishikori has reached the final of the US Open. Albeit he lost to Marin Cilic, who is 6'6″, getting there is something most players can only dream of.
When you look at the greats of the game, they haven't all been giants.
John McEnroe is 5'11". Michael Chang was just 5'9″. Rod Laver, who won 11 grand slam titles, is a mere 5'8″.
The dynamics of the game have changed to favor taller players. Nonetheless, we regularly see new players break into the top 100 on both the men's and the women's sides.
Many of these players are under 6 feet.
Final Words
If ever you're doubting your tennis and think it's down to height, just thinks about Ashleigh Barty and Diego Schwartzman.
These two are defying the stereotypes of height in tennis, and so could you.
If you are a short player, what are your strengths? Do you think there are many advantages to being short?
If you're a tall player, do you find that you can serve more aggressively? Perhaps it makes no difference.